*This post was originally published on CredibleCopywriting.net*
While big social media campaigns, contests, and landing tabs can certainly increase your fans on Facebook, sometimes, all you have to do is pay a little more attention to the small signs in the social network.
When you're logged in as a page admin on the social network, take a closer look at the "Recommended Pages" section that can be seen at the right-hand side of the page. This is where Facebook lists the other pages that your fans like. Some of these pages may be in the same industry that you're in, some may be completely different. Either way, consider using these Recommended Pages to tap into new fans.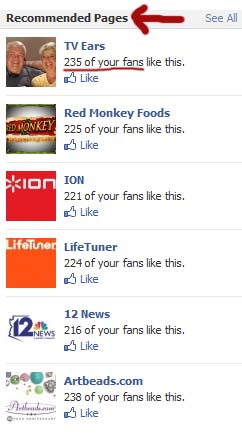 After all, if 50 or 100 of the people who like your page are also fans of say, "Bob's Unique Coffee Shop," then your page must be appealing to a particular demographic that drinks Bob's coffee. Be sure to connect with these people and let them know you exist.
The next time you login on Facebook, make it a point to go through all the Recommended Pages that you see on the social netowork. Interact with these pages on a regular basis; reply to comments and re-post any interesting content.
How exactly will this help you? Think about it this way: Let's say you own a hardware store and you find out that a lot of your regular customers are also hanging out at this particular coffee shop. Wouldn't it be a logical claim that there would be more potential customers in that place? Of course, this doesn't mean to say that you should go to that coffee shop and shamelessly promote yourself with a megaphone (that'll be disrespectful to the page—er—shop owner). But it wouldn't hurt to order a cup coffee yourself and strike up casual conversations with the people in the venue. Be witty and friendly. If they like you, they might even ask what YOU do, and then who knows? Maybe they'll even check out your business for