Salesforce implementation is of key concern for any company, big or small, & no matter what their particular needs and preferences are. It's Being one of the leading CRM systems in the world. Salesforce allows corporations to identify all the major areas from where they can earn a profit with proper utilization of technology & great adoption of strategies and ultimately help them to keep their clients satisfied and loyal.
Business critics said that every business has their requirements and conditions, which needs to be met completely in time to help the company increase their sales and establish their relationship with the client. With the proper Salesforce integration & implementation, this can be achieved easily as it provides a vast majority of customization possibilities and third-party integrations with other apps that make it a reliable product. But, understanding the perks of the Salesforce & its wise implementation are separate things, and the latter one can be much difficult if you don't know the basics & advanced concept of Salesforce. Whether you are looking to enhance your data quality, maintain a customer and company relationship or make the best out of our investment, if you don't know how to correctly utilize the features of Salesforce, you won't be able to achieve perfection and reach higher.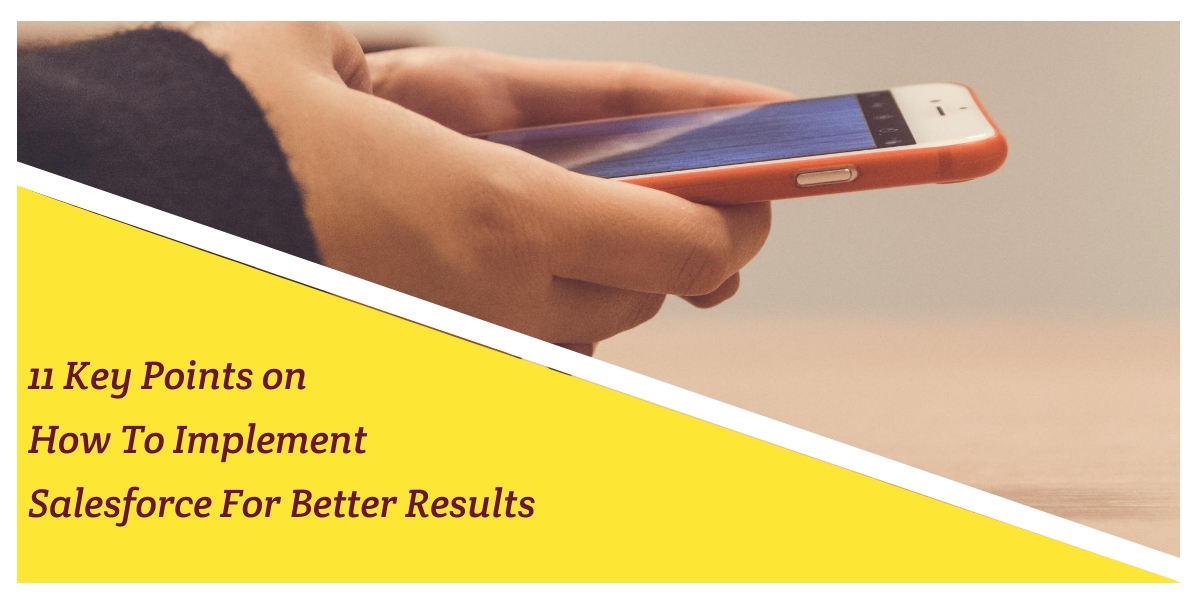 Here are given some valuable tips on how to implement a successful Salesforce given by most trusting Salesforce experts:
Salesforce - A definite leader in implementing CRM solutions
Giving fast and reliable customer service is the backbone of developing a long-lasting customer relation. Every company searches for better ways to help their client get the best support and services. And the power Salesforce provides to their customers to help them find out those areas & make effective use of technology to remove those barriers, make it a sure leader in offering Salesforce CRM solutions. Salesforce allows them to improve interaction between the company representative and the customer with the help of simple, quick & easily customizable Salesforce tools.
These tools help the companies to store valuable customer data in a correct and organized manner that it enables the user to easily find & prioritize the queries, and provide essential solutions in time. However, the proper use of these tools can offer flexibility in the management. It is profoundly recommended to use the services of an expert if you wish to customize these tools, construct modules and modify Salesforce to perform as per the needs of the enterprise.
Using its features effectually:
Since Salesforce offers a variety of features and tools, it is important for a company to use the features accordingly. For instance, the cloud-based characteristics help the organization in easy customization and offer scalability. Salesforce also offers cloud services like Salesforce sales cloud, chatter, marketing cloud and more that can be used for connecting your corporation to your employees and clients or do various other tasks in a quick and easy way.
Security:
The cloud functionality provided by Salesforce not only gives flexibility and accessibility, but it also gives the organization a secure and trusted way to access the data.
Mistakes which needs to be avoided:
Salesforce integration & implementation is not an easy process & it must be done by keeping certain things in mind. Many believe that just having the power of Salesforce can help them generate better leads and increase their sales. But they are entirely wrong, and this belief of their cause their company a great loss. Below are some of the most common mistakes and errors that you will need to avoid to have a successful implementation of Salesforce.
Implementing it on your own:
It may be likely possible that you can implement it without anyone's help, but implementing it in a right speed, accuracy & precision are not possible. In order to get the best results from your CRM investment, appointing an experienced Salesforce consulting partner is advised as they can understand your requirements well and make necessary modifications and implement strategies to attain your goals within the time.
Choosing the wrong Salesforce partners:
There are numbers of Salesforce consulting partners which provide salesforce integration and implementation services available in the market who claim to offer extensive and complete solutions to your CRM needs. However, only a few understand the concept and functionalities of the system & have the experience to deliver the desired results in time. Hence, you should only partner with highly knowledgeable & professional consultancy services who have helped many companies before.
Failure to customize the system well:
Surely Salesforce comes with a lot of features and functionalities, but you got to understand that using those features in an inefficient manner would be hazardous for the company. First of all, You will need to properly understand the requirements of your business and then use its features to achieve the desired results. An experienced Salesforce consulting partner can help you with that.
You focus too much on unnecessary things:
While implementing and integrating Salesforce, it is essential to look deeply on things so that you can get all the things right. However, doing this, you also concentrate too much on things that can be dealt with later and overlook those areas where your critical attention is needed.
Having Less interaction with end users:
In order to provide your customers with better services, you need to interact with them on a regular basis. Not dealing with the end user ultimately decrease your visibility and lower your reputation. You may also forget your real customers. Therefore, it is extremely important to communicate with your customers by asking them to submit feedback so that you can know what the user really think of your product or service and start working on the areas where feedback is negative.
Use Pardot & Salesforce together to regulate and optimize campaign ROI:
With the help of Pardot, you can observe, create and manage Salesforce campaign's return on investment reports. It's an efficient method to keep track of your running campaigns and know how well the campaigns are performing. All you need to do is to integrate your campaign into the Pardot system by just logging in with your Salesforce account details. By enabling your campaigns with Pardot, you can easily add views and make necessary modifications as required in your campaign that will increase your sales possibilities.
Management of The Salesforce security:
Salesforce provides a cloud-based system, So it is believed to be less safe and more prone to release your valuable data to the hackers. An obvious concern for any company, however, the truth is far from it as Salesforce offers an excellent configuration system that allows access to the data to only those personnel or staff having the required account details. With this remarkable security system, you can easily manage who has access to the data and how much data a person can see. Furthermore, it also helps you to control who and how the data has been used, thus providing both flexibility & safety.
By understanding these details, Salesforce implementation and integration can be achieved thoroughly and successfully without any errors, and the company can come close to their goals of increasing sales and better customer support services.