You've launched a startup or began working remotely, and are thinking about creating and equipping a genuine home office. If you want to be efficient and put in a good day's work, you can't keep working from your kitchen or living-room table, because that's not a work-inductive environment. Many people make a mistake by thinking of office design as an afterthought, because a properly designed office can do wonders when it comes to job satisfaction and productivity.
There's a myriad of factors that can affect performance and productivity, and if the right solutions are not implemented in time – they may end in undesirable results. Thus, we provide you with the best tips on how to equip your home office to ensure maximum productivity.
Choose a dedicated space
Before you choose the best space for your home office, you need to make a list of all your critical home office needs. For example, if you're a consultant, you need to have enough space for meeting your clients and a few locking file cabinets, or if you're a graphic artist – a large table where you'll be doing your artwork and a smaller one for computer work. This list will give you a better idea of how big your office should be. If you share your home with a spouse or children, your office should be somewhere quiet (a spare room that can help filter noise from the environment will do). On the other hand, it may be better to choose a premise near the front entrance if you'll be meeting clients.
Furniture
When it comes to buying office furniture, don't try to save as much as possible, because cheap furniture is almost always impractical and uncomfortable. This results in poor working conditions, and you won't be able to give your maximum in those circumstances. Eventually, you'll have to replace the majority of your furniture very soon once you realize that the super-cheap option was a bad one. A smart way to go is to opt for ergonomic furniture, even though it's not the cheapest option.
Invest in the right equipment
If you're starting to work in your home office, it's essential to use the right equipment. It can be really tempting to splurge on unnecessary items (like office décor) and skimp on key equipment. However, if you're using an old PC that you bought back in 2009 and an even older printer, your incredible furniture and beautifully designed small office will be all for nothing. You, as well as your employees, need to have access to tools that will enable you to get the work done.
Besides quality furniture, invest in a fast internet connection, computers with efficient performance and memory, and other specialized equipment, such as software and tools that are crucial for performance in your area of work. This can range from quality computers, like MSI desktop computers which are always a good choice, communication and presentation tools, new generation printers and everyday stationery.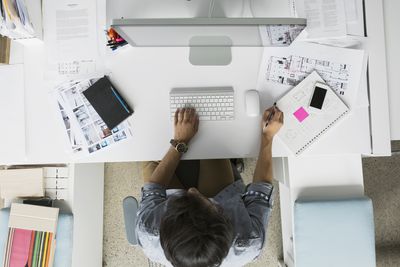 Home office processes and procedures
In order to utilize formal procedures and processes in your home office, you don't need to publish a list of office rules or write a formal employee handbook. What you need to do is determine a formal system of operations for your home office – from logging time with customers to standardizing paying invoices and record-keeping. This will ensure your office stays organized.
Human-friendly design
If you're a business owner, you need to take care of the interior design of your home office, and make sure that it doesn't appear sterile and dreary. So, if possible, choose a space that allows plenty of natural light, which can be enhanced with more direct lighting. Add general, overhead lights, task lighting, and floor or desk lamps to give you more concentrated lighting to your work area. Add some artwork, work-related posters, or simple shelving to your bare walls, and enrich the corners with several house plants. This will make your home office space much more engaging and will boost your productivity.
Setting up a home office when starting a business is not cheap. You'll need to buy computers, software and office furniture. However, with some help of contemporary equipment and interior design, you'll increase your work productivity and pave the path to long-term business success.