Apple has gained some momentum by the recent release of iOS 13.1 and iPhone 11 pro that has new features that can help users have a feature-rich experience and pose a challenge to developers to cope up with the advanced features of iPhone and the iOS universe. This challenge can be seen as an opportunity to open new doors to markets never tapped in before. 
The mobile app development world is constantly changing and there are constant developments that are integrated into the design and development of applications. Today, we are going to tap into 5 such trends that can be integrated into iOS applications to be launched in 2020.

Wearable Universe: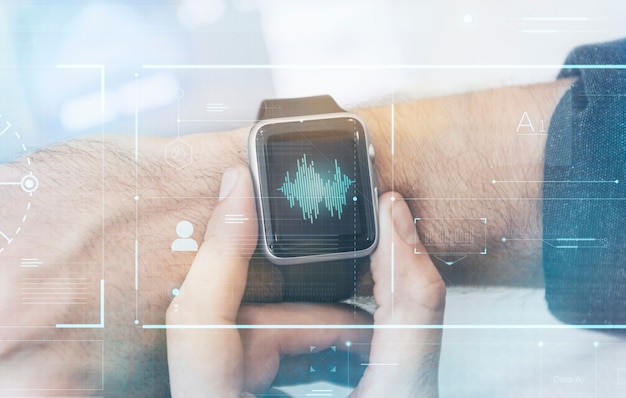 With Apple's Watch 5, wearable devices are going to be a touch higher in their market standards and popularity. Apple also released Watch OS6.0.1, with new features and enhancements. It resolves an issue where the Mickey Mouse and Minnie Mouse watch face does not speak time, addresses an issue where the calendar complication may not display events, fixes a bug that could result in a loss of display calibration data. 
Many firms are designing apps around Apple Watch 5 and they need to have a profound connection with the phones and to achieve the same, there have to be two dedicated apps, one for wearables and others for phones.
According to industry analyst firm, CCS Insight, the wearables market is set to become a market worth over $25 billion in the next five years, the global forecast for wearable devices, which includes smartwatches, fitness trackers, augmented and virtual reality headsets and wearable cameras indicates the market is set to grow from 84 million units in 2015 to 245 million units in 2019. 
Companies worldwide have already decided to spend more on building specific apps for Apple Watches. It is necessary to confess the convenience of these devices because they can provide permanent access to almost all vital functions.
Artificial Intelligence and IoT:
Artificial Intelligence-based applications have already seen a huge spike in business acceptance and application development in recent years. This has been backed by technologies that have enhanced the use of AI in applications. 
Apple has already introduced features like machine learning apps and a neural framework called CORE ML(3), that helps apps on iOS learn, analyze and train specific user cases on-devices. Data Analytics has also been a vital part of machine learning techniques, where firms worldwide are gathering BigData, analyzing them and distributing the same according to the need.

Internet Of Things(IoT) has emerged as another trend that has taken the world by storm. IDC predicts a compound annual growth rate (CAGR) of 13.6% over the 2017-2022 forecast period and reach $1.2 trillion in 2022 for spending over IoT by companies worldwide.
Despite the growth, the Internet of Things (IoT) ecosystem is a complex market, with multiple layers and hundreds of players, including device vendors, communications service providers, IoT platform and analytics vendors, and IT services providers. IoT is also witnessing the collision of operations technology and information technology groups within enterprises.
Navigation: 
This is a trend that is not new to the market, but, the advent of web-app based ride-hailing business has changed the whole scene. Where iOS fits in this plot, is the fact that Apple made its navigation services more advanced with enhancements to its Maps. With iOS 13.1, Apple introduced ETA sharing system in Apple Maps and this enhancement can encourage navigation-based applications shortly.
Though there is a tough competition between Google Maps and Apple Maps and we have already seen, Google winning this race. But, Apple is trying it's best to catch up to this daunting task and match the popularity of Google Maps. 
Shortcut-apps:
Apple added a new feature to iOS by allowing its users to create shortcut apps on their iPhone. This feature can be utilized by firms to create their shortcut apps and instant apps. Companies can hire iOS developers that can utilize this feature and create instant apps for users that can backtrack to websites and contents that are to be promoted. Instant apps are already a popular medium to attract traffic towards apps and websites.
Security:
Apple released iOS 13 with new features that promise to block frequent scam and spam callers. Essentially, when this setting is turned on, only phone numbers that are recognized  (via your Contacts, Mail, and Messages) will ring the phone. 
All other calls are automatically dispatched to voicemail. The user will only be notified about the call if the caller leaves a voicemail. The recipient can then read Apple's transcription of the voicemail and see if they want to call the number back.
Apple has been working for years now to provide robust security to the iOS platform and devices. Apple also introduces a new "Sign in with Apple" feature that you can use to authenticate your identity when you attempt to log into third-party apps. 
Apple will let you sign in without revealing personal information that will let that app developer track you. If you want the benefits that might come by sharing an email address with that developer, Apple will let you do so with a randomized email alias address that will be forwarded to your real email address. 
Conclusion:
The world of iOS applications is expanding and developing itself day by day. There is a disappointment amount developers, due to the non-compatibility of the latest iPhone 11 pro with 5G networks, which is going to change in 2020 with the iPhone 12 and Apple is already working on the same. There is no doubt that the iOS apps paradigm has a lot to offer in the near future and no company would like to miss that!