The world is half digital, already! The latest Global Digital suite of reports from Hootsuite and We Are Social reveals that presently there are more than four billion connected people on earth. What's more, the average internet user spends nearly six hours a day (one-third of their life when awake) on connected devices.
This increasing internet penetration and usage have profoundly changed the marketing landscape, forcing businesses to be where their customers are - online! No wonder, a growing number of businesses are increasing their spend on digital marketing initiatives. According to the eMarketer report, the digital marketing share of the total advertising spend is soon expected to reach 50 percent. The report also reveals that global digital marketing spend is predicted to cross USD 375 billion by 2021.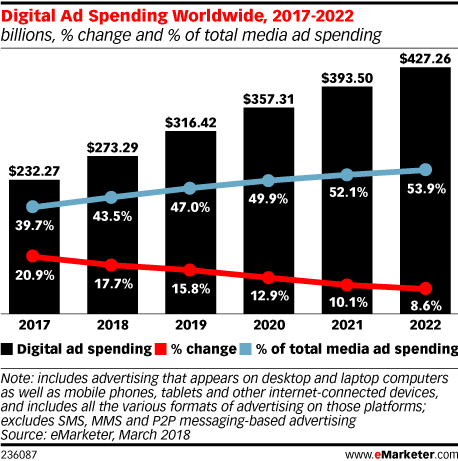 The aforementioned statistics make it impossible for anyone to ignore the disruptive power of digital marketing. Thus, mastering digital marketing skills is critical not only for entrepreneurs but for every professional and business owner.
Whether you are looking to kickstart your career in this domain or desire to start your own digital marketing agency, the tips shared in this post will steer you towards becoming an expert digital marketer.
Dive in to know what it takes to navigate the fast-paced digital marketing world.
1. Read. Read. Read.
The digital marketing domain is dynamic and incredibly competitive. Therefore, it is critical that you stay updated with the latest terminologies, trends, and technologies emerging in this segment.
Stay on top of the industry news by following major search engines and social media platforms, namely Google, Facebook, Instagram, YouTube, and Twitter among others. Here are a few websites and blogs you should follow to stay updated about the latest happenings in this segment.
SEO: Moz, Search Engine Journal, Search Engine Land, and SEMRush
PPC: WordStream, PPC Hero, Search Engine Watch, Search Engine Land, and Inside AdWords
Social Media: Social Media Today, Social Media Examiner, HubSpot Marketing Blog, Hopper HQ Blog, and SocialMouths
Video Marketing: DaCast, Entrepreneur (video strategy section), Shakr, and StoryMe
Content: Hubspot, QuickSprout, ShoutMeLoud, and Neil Patel
Link Building: Backlinko, Ahrefs, and NinjaOutreach
2. Get a Certification
Want to stand out from your peers? An online digital marketing certification from a reputed institution can help you learn the latest concepts and technologies in this segment, giving you strong industry acceptance and an edge over others in your league. These certification courses are designed to build your digital marketing skill set and boost your employment value.
The courses also focus on disciplines, such as SEO, email marketing, social media marketing, mobile marketing, web analytics, and affiliate marketing, strengthening your foundation in the subject.
3. Follow the T-Shaped Marketer Model
Rand Fishkin, the founder and CEO of SEOMoz advises budding digital marketers to adopt the T-shaped marketer model. T-shaped web marketers focus on gaining light knowledge in a broad array of skills, yet strive to gain expertise in one or a few disciplines.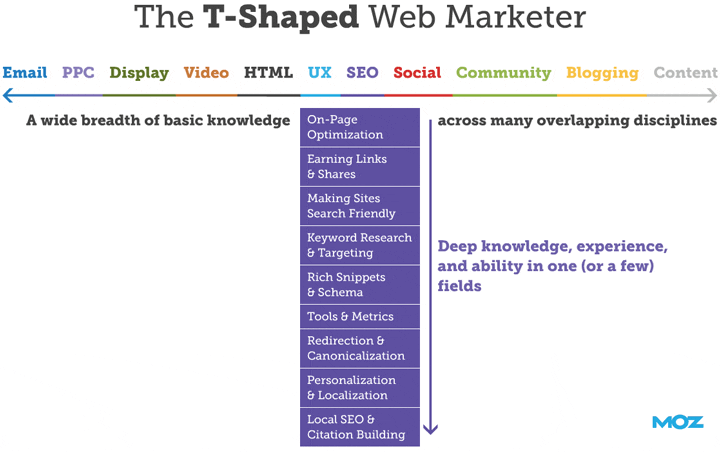 Digital marketing is a vast domain that comprises of diverse sub-skills, such as SEO, pay-per-click (PPC) campaigns, and social media, email, and mobile marketing among others. It can be tough to master each aspect of digital marketing. However, the T-shaped model enables you to be a specialist in one skill and use your basic understanding of the other areas to bring creative ideas to the table.

4. Convert Theory into Practical
The digital marketing industry can be quite intimidating and unforgiving if you haven't put your knowledge into practice. Once you have understood the basic concepts and techniques, it's time to put what you have learned into action.
Building your personal brand with a strong online presence is probably the best way to show your prospective employers or customers your digital marketing abilities. Take up personal projects to test out theories and your own ideas. For instance, you can start your own website and try your hand at the various skills you have acquired, namely SEO, PPC, and social media and content marketing.
Start a blog to express your take on various subsets of digital marketing. Pick a discipline and constantly release content in the form of white papers, ebooks, podcasts, videos, and presentations, thereby building your image as a thought leader in the domain.
Lastly, many startups and non-profit organizations are looking for digital marketing experts who can help them build their brand image. Volunteer to help these organizations to put your knowledge into practice and enrich your professional experience.
5. Network Like a Pro
Improve your influence and authority by connecting and engaging with influential people in the domain. Join relevant digital marketing groups on social media platforms, like LinkedIn, Twitter, and Facebook and participate in conversations to exhibit your marketing expertise.
Further, invest in a trip to the top digital marketing conferences and meetups and meet and interact with other digital marketers. These conferences also offer you an opportunity to listen to global industry experts and get a glimpse of the prevailing trends. Further, most digital marketing events offer interesting workshops for budding marketers, enabling them to sharpen their skill set and connect with the influencers in the segment.
Stay Ahead of the Curve
The digital marketing domain is exciting, yet scary. Your journey towards becoming a digital marketing expert doesn't stop after mastering the top skills, following every authority website and blog in the segment, acquiring a certification, and connecting with the industry leaders.
The ever-changing digital marketing scenario brings along an avalanche of industry updates and developments. Staying on top of the latest developments and releases is the surefire way to navigating the fast-paced digital marketing world.

(Image Credit:pxhere.com)