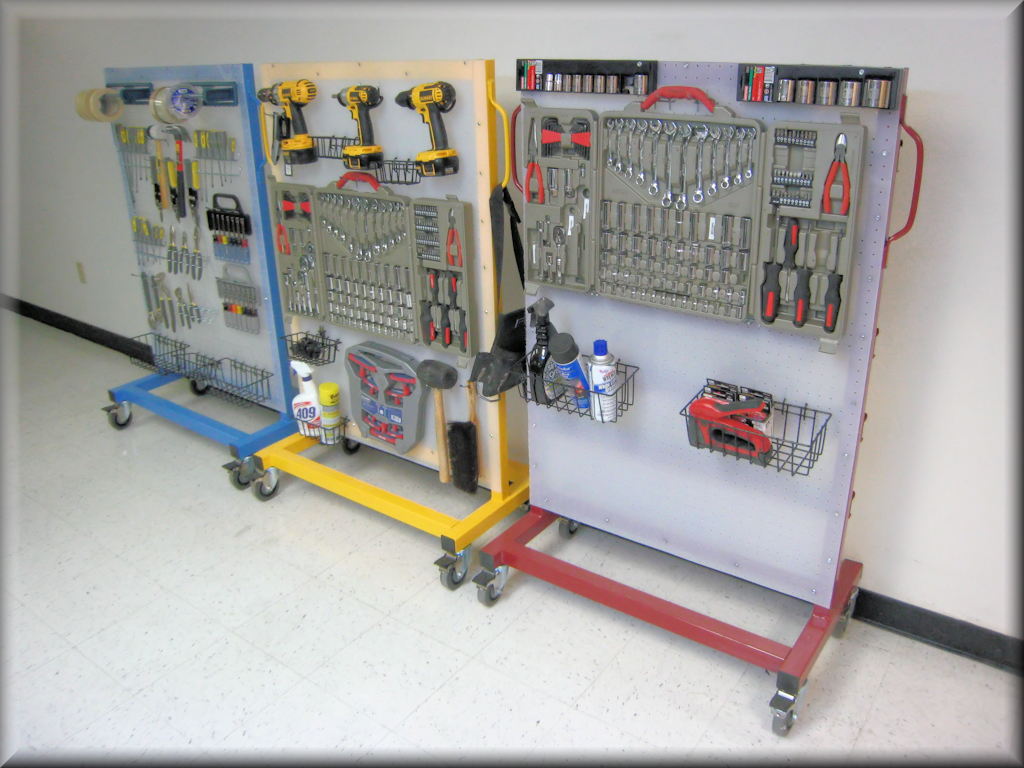 The ever-growing demands of warehouses and other facilities in today's marketing landscape can be largely attributed to the growth of several manufacturing units and industries. Whether it be the electronics industry, automobile industry or even consumer goods, different sized items and already produced units need substantial storage space in any warehouse or factory set up. This is aimed at better organization and workflow optimization, allowing easy and quick sorting and retrieval.  Companies also have to opt for the most cost-effective option for decreasing production costs and getting an edge over their competitors.
This brings us to the topic of Heavy Duty Utility carts for factory environments. Such specially designed Carts can be used for bulk, efficient storage of an assortment of different components. These may include large pallets of smaller items to bigger, bulkier and more expensive components of various shapes and sizes. They can be used in a variety of ways like easy transportation of components, proper organization as well as storage optimization. In this article, we will discuss ways in which an industrial utility cart is the appropriate shelving and storage option for manufacturing industries.

It can store big and heavy Items: Industrial utility carts are designed for a purpose and special provisions are in place to make them more factory and warehouse friendly. These include having a more durable and well-equipped framework to handle such items without any difficulty. Most industries require huge shipments of items that need to be stored together for convenience and better organization. The sturdy design allows heavier goods and equipment to be stored for longer periods, segregated safely from other smaller components that are more prone to damage.

Better Organization: Better organization of inventory and other items stored can be observed when using utility carts , allowing the workforce to complete tasks quickly and efficiently. As mentioned above, since more cumbersome items like automotive parts or construction material can be safely segregated and stored, it frees up space for more frequently used or standard sized parts spending less time sorting and retrieving the required items.

Removes Need for Lifting Equipment: Through better organization, industrial utility carts free up a lot of space and achieves storage optimization. On the other hand, many warehouses that use traditional carts and storage solutions often end up cramped, and in need of vertical storage units. Such vertical units can be tough to reach easily for workers, often requiring special lifting equipment to store and retrieve. Utility carts  does away with that, allowing more storage options and better utilization of floor areas.

Versatile: Industrial Utility carts can provide a number of uses to companies because of a number of versatile features. For instance, all models are fitted with Plastic laminated tops that guard against damage from unnecessary scratching and grazing. A fully welded tubular steel frame guarantees durability to a great extent, capable of withstanding large loads as well as batch-wise smaller components. The presence of total locking casters makes it suitable for any floor space, capable of withstanding normal wear and tear.

Provisions for Add-ons: Industrial casters can be integrated with a number of devices to perform different functions and uses. They also come in extra heavy duty variants which are required by certain manufacturing sectors. It allows seamless integration with ESD Static Control Construction, as well as with monitor and keyboard trays for added convenience.
Customization: Every industry has different requirements, and no two warehouse spaces are same when it comes to size and dimension. Industrial utility carts can be customized according to specifications and client's requirements. Some manufacturers also offer preset variants based on different requirements. This result is substantial cost- cutting which would not be possible with stock storage solutions.
Choice of Finishes: Industrial utility carts have a lot of options for finishes, depending on the sector of work. For example, the surfaces are coated with corrosion-resistant paint for handling acidic substance. They are also heat resistant, allowing exposure to higher temperatures for a longer period of time. All of this makes it appropriate for several different applications and uses.
Closing Notes
Industrial heavy duty utility carts  come in a myriad of variants, sizes and purposes. Thus it can be quite confusing while making the final choice. Hence it is always advised to assess one's requirements before selecting a particular model. It is also advised to make such a substantial investment from a reputed and experienced firm, which specializes in the manufacture of industrial products. Such manufacturers have a clearer idea about the dangers of a factory or warehouse environment and develop their products according to all prevalent manufacturing standards and certification. The presence of warranty programs is also quite important, to safeguard against any damages that might require repairs in the near future.